Rescue / Rehome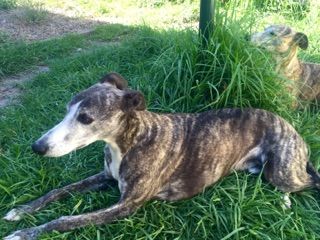 RESCUE / REHOME
Sadly, from time to time, we receive notice of a whippet or multiple whippets in pounds or shelters around NSW. Our first duty is to view the dog and confirm it is indeed a whippet, then obtain as much information as possible and then rescue the dog. We aim to assess the dogs for suitability with children and other animals, desex, and in some cases, get the dogs back into a healthy condition. Once this is achieved, we then advertise the dogs here on the Club website and also through Dogzonline. Occasionally, older dogs become available when owners can no longer keep them due to moving overseas or into a unit or other reason. Sometimes there are young adults offered for rehoming that showed early promise as a show dog and may have grown too big or an injury has stopped their show career. These dogs will be advertised with the owner's details. The Whippet Club wishes to thank all those carers and rescue groups who notify and assist us in the rescue and rehoming of dogs. We are most grateful and appreciative of your efforts.
If you require assistance to rehome your Whippet, are looking for a rescue Whippet or know of a Whippet in need in a pound or shelter please contact the club. Is is also worth noting that Whippets are a long lived breed and while 6, 7 or 8 yrs old may be mature for other breeds that is not the case with Whippets.
CURRENT RESCUE WHIPPETS IN CARE OR AVAILABLE
None at present but alternatively, please check www.dogzonline.com.au for a list of registered reputable breeders and current puppies and mature dogs available.
HOW TO APPLY TO ADOPT A RESCUE WHIPPET
Check the site constantly, twice weekly is recommmended, things can change at any moment.
Read the description closely. If you think your home life will suit one of our rescues then please send a DETAILED email to the club [email protected] telling us all about the type of home life you could offer a Whippet. Include contact numbers. Minimum details required include:- where will the dog sleep, how many hours/day will the dog be on its own, other pets in the home, fence and gate heights, ages of any children. One line emails, text messages and requests for pictures will not be responded to. Pictures will only be sent to suitable applicants. Rescue notifications are up to date so please keep an eye on this page.
Whippets are a long lived breed, often living until 15 or 16 years of age. Our aim is to find our rescues their forever home, so please consider if you can offer a secure and loving home for many years to come.
*ASSISTED REHOME = Dog (s) is in the care of its current owner and they have contacted us to to help them find their Whippet (s) a new home. Suitable applications are forwarded to the owner.
FOSTER CARE = dog (s) has been rescued from a pound or shelter or has been surrendered to us and is living with a club member (foster carer).
FOSTER CARERS
The Club would like to hear from anyone who would like to become a foster carer for a Whippet in need, it is a very important role that helps determine the type of home a rescue Whippet would best be suited to. It is also very rewarding knowing you've had a hand in helping a Whippet(s) find a family to love them. Please email the club if you can help.
Contact Details
Rescue Officer




Email :

whippetrescueofficer

@gmail.com