Rescue / Rehome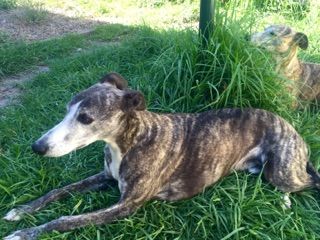 RESCUE / REHOME
Sadly, from time to time, we receive notice of a whippet or multiple whippets in pounds or shelters around NSW. Our first duty is to view the dog and confirm it is indeed a whippet, then obtain as much information as possible and then rescue the dog. We aim to assess the dogs for suitability with children and other animals, desex, and in some cases, get the dogs back into a healthy condition. Once this is achieved, we then advertise the dogs here on the Club website and also through Dogzonline. Occasionally, older dogs become available when owners can no longer keep them due to moving overseas or into a unit or other reason. Sometimes there are young adults offered for rehoming that showed early promise as a show dog and may have grown too big or an injury has stopped their show career. These dogs will be advertised with the owner's details. The Whippet Club wishes to thank all those carers and rescue groups who notify and assist us in the rescue and rehoming of dogs. We are most grateful and appreciative of your efforts.
Rescue Officer PH: 0439 801 626
CURRENT RESCUE WHIPPETS IN CARE OR AVAILABLE
If you require assistance to rehome your Whippet, are looking for a rescue Whippet or know of a Whippet in need in a pound or shelter please contact the club. Is is also worth noting that Whippets are a long lived breed and while 6, 7 or 8 yrs old may be mature for other breeds that is not the case with Whippets.
All rescues listed are current
There are no rescues available at this time but please keep checking this page as it is updated if and when dogs come into our care.
Alternatively, please check www.dogzonline.com.au for a list of registered reputable breeders and current puppies and mature dogs available.
HOW TO APPLY TO ADOPT A RESCUE WHIPPET
Check the site constantly, twice weekly is recommmended, things can change at any moment.
Read the description closely. If you think your home life will suit one of our rescues then please send a DETAILED email to the club telling us all about the type of home life you could offer a Whippet. Include contact numbers. Minimum details required include:- where will the dog sleep, how many hours/day will the dog be on it's own, other pets in the home, fence and gate heights, ages of any children. If you don't want to send a detailed email pls phone the secretary. One line emails, text messages and requests for pictures will not be responded to. Pictures will only be sent to suitable applicants. Rescue notifications are up to date so please keep an eye on this page.
Whippets are a long lived breed, often living until 15 or 16 years of age. Our aim is to find our rescues their forever home, so please consider if you can offer a secure and loving home for many years to come.
*ASSISTED REHOME = Dog (s) is in the care of it's current owner and they have contacted us to to help them find their Whippet (s) a new heome. Suitable applications are forwarded to the owner.
FOSTER CARE = dog (s) has been rescued from a pound or shelter or has been surrendered to us and is living with a club member (foster carer).
UPDATE OF WHIPPETS RESCUED OR REHOMED
September 2016 - Zorro and Zues have found a new home in Sydney where they are settling in well and enjoying their new suuroundings.
September 2016 - Hero has fallen on his feet in his new home near sunny Newcastle.
August 2016 - Priscilla found a lovely home on the Sunshine Coast where she is being utterly spoilt!
June 2016 - 9yo Cassie's owner had a change of heart.
June 2016 - The blue fawn brindle male that was in Albury pound has found a wonderful new home. So too has young Tyrian from Tumut. Many thanks to the club members in the Albury area for looking after these two boys.
June 2016 - Yay.....Lucky has found his family. His foster mum says it was love at first sight. (F)
March 2016 - thank you to everyone who inquired about Kyla. She has been adopted. (F)
March 2016 - We are very happy to announce that Penny and Cooper have found a wonderful family to love them and give them all the time and attention any dog could wish for. (AR)
March 2016 - Sweet Zelda is off to live with her foster carers daughter and young family. We couldn't have wished for a better outcome for such a deserving little dog. (F)
January 2016 - Penny's meet and greet was a success and she has found a wonderful permanent home. (AR).
December 2015 - Yay....lovely little Scout has already found a wonderful home with Marc and Jo and Calypso the Whippet in sunny Queensland. Thank you to everyone who inquired. (AR)
December 2015 - It looks like Ben and Molly have found a big extended family to love them and offer them a safe home in Sydneys Upper North. (AR)
November 2015 - Cleo and Pharaoh, our mature pair have found a wonderful home in the mountains with Barri & family. Thank you very much Barri for giving these lovely dogs a home. Also our thanks to those who donated towards their medical expenses. (F)
October 2015 - Smokey and Snowey have moved to the Gold Coast to live with Sharon and her family. They are adjusting well and are enjoying exploring their new abode and especially their big garden. (AR)
October 2015 - Bella found a wonderful family and a great mate in Felix the Whippet. I'm told they played non-stop until they collapsed together happy and tired. (F)
September 2015. Dear little Daisy has gone to live with Georgey. This sweet little girl deserves a second chance to be happy and we are confident Georgey is up to the task of taming our wanderer. Also a huge thanks to first time foster mum Gen and hubby who Im sure shed a tear as they waved Daisy off. (F)
August 8th, 2015 - Dear sweet Finn has gone to live with Domenica. Such a lovely boy and we are so happy to have been able to give him a second chance. All the best Domenica and Finn. (F)
February 2015 - Beautiful 9yo Nikko is off to live with Glenna and her family. Nikko will enjoy life as a pampered house dog and have a 10yo Whippet friend for company too. What more can a boy ask for. We look forward to hearing how Nikko enjoys his new home. Update - Nikko is settling well and enjoying life, his new family think he's just wonderful. (F)
February 2015 - Peso and Storm have found a new home, we hope all goes well for the boys. (AR)
January 2015 - Paris has found a wonderful family and is enjoying life with her Labrador friends. (BR)
January 2015 - Oscar who needed a special home is off to live with Eve and her little dog. Oscar will require lots of time and love to make him trust people again, but we know Eve is up for the job. (F)
January 2015 - Brutus has now settled into his new home and is having a great time. (AR)
November 2014 - Devo is on trial with Geoffrey. We confirm all is going well. (AR)
November 2014 - Tori found a new home. (F)
October 2014 - Minnie is off to live with Chris & Sue and their two Whippets, such a wonderful little girl, good luck to you and your new family from all of us. Update - Minnie is living the high life and loves her new family and two fur-brothers. (F)
Pickles & Lila pictured above and Jack and Jem have found their forever homes (AR). Young Rafa has found his forever home with Coral & her family, all the best Rafa, we know you will be loved. (F)
Buster has found his forever home and is doing extremely well (F). Alex's owners had a change of heart and made changes to their lifestyle to make him happier (F). Cody, now named Captain has been adopted by Sian and her family. They too could see the potential in this excitable and loving boy (F)
Thank you to those who enquired about Lulu the black Whippet, she's now in a wonderful home. We'd also like to thank everyone who had a part in bringing Lulu back to full health (F).
Thank you to everyone who enquired about Tassie, her owners had a change of heart and just couldn't part with her.
Alfie is now living a life of luxury with Kathryn and her family, and even has a new Whippet friend to keep him company. We'd like to thank Kristine, Alfie's foster carer, who brought him back to good health (F).
Coco has gone to her new home (AB).
The orange brindle male in Hawkesbury pound has been claimed.
Thank you to everyone who enquired about Zuzee/Wally he has found a wonderful family to live with (F).
Bangers and Mash leave for their new home at Easter, good luck boys. Ajax has settled into his new home. Thank you to all those that enquired about Sasha she has found her forever home so too has Happy and Breeze.
We received a call with an update on Tinga, renamed Mocca, rehomed a year ago. He had some issues but his new owners have worked through that and now advise he is a happy companion for Cino.
FOSTER CARERS
The Club would like to hear from anyone who would like to become a foster carer for a Whippet in need, it is a very important role that helps determine the type of home a rescue Whippet would best be suited to. It is also very rewarding knowing you've had a hand in helping a Whippet(s) find a family to love them. Please email the club if you can help.